Introduction¶
Introduction¶
Any Web Application that contains a User Interface, has forms. All Forms in zAppDev can be designed using the Form Editor.
The Form Editor contains everything required to create a fully-functional, responsive and comprehensive form filled with
Components
Database Data
Calculated Data
Validations
Operations and Functionality
Events and Handlers
Graphics
Sub-forms (Modals, Partials, Forms within Forms)
... and more
New Form Model¶
There are several ways to create a new Form Model, depending on what do you want to create (i.e. an Empty Form? A Data Entry Form?) and for which purpose. Here, we will show you one of the ways to create a simple, empty Form.
Click on the button of the Taskbar
Select the Form option.
Choose a unique Name for your Form Model
Choose its [Type] (ModelEditors/Forms/View.md#form-types)
If you chose to create a Normal Form, then select the Master Page that that Form should have as its Layout
Click on Add to create your new, empty Form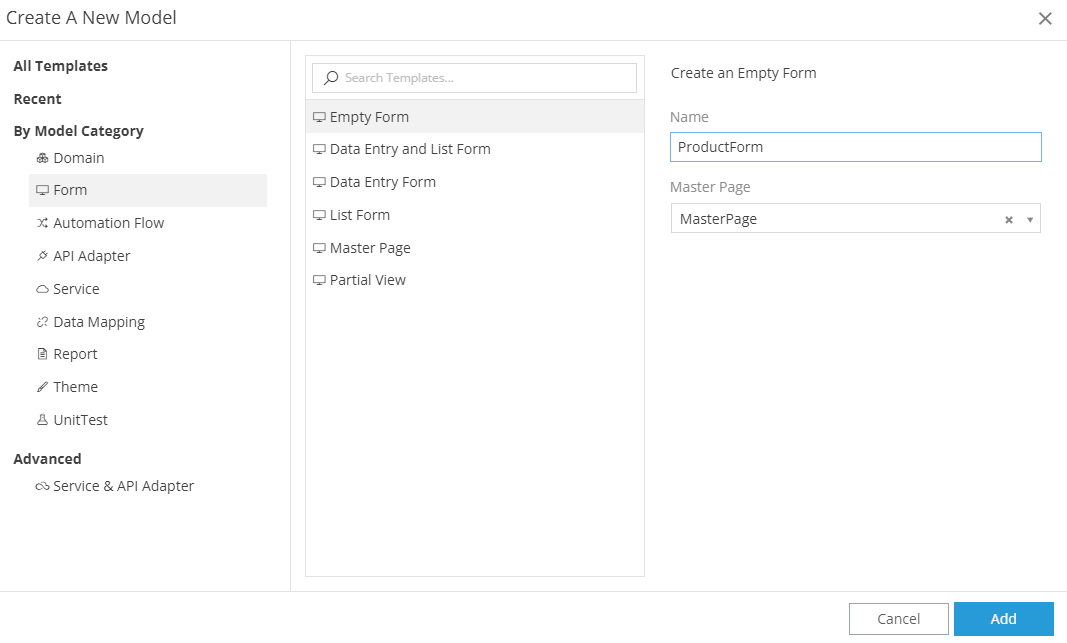 The Editor¶
The Form Editor consists mainly of:
The View Tab: This is the actual UI Editor for your Form, where you can drop Components from your [Toolbox]((/ModelEditors/Forms/View.md#toolbox), set their positions, define their properties and more
The Controller Tab: In this tab you can add and define the actual functionality of your Form, in terms of Controller Actions
The Logic Tab: The Logic Tab can be used to define the visible logic of your form, in terms of [Validations]((/ModelEditors/Form/Logic.md#data-validations) (i.e. rules and their messages), Conditional Formattings (i.e. conditionally displayed parts of your Form) and Calculated Expressions (i.e. calculated/defined values, set using any logic you want, that should be presented in your Form)
The Property Grid containing
The Event Listeners Tab: The tab that you can use to define the behavior of your Form, should a specific Event occur during its execution
The Localization Tab: Translatable terms of any alphanumeric information presented and/or used by the Form